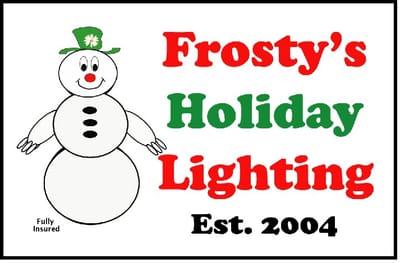 The most wonderful time of the year...
everyone enjoys the look and beauty of holiday lights and decorations. Have you ever noticed it is always the coldest day of the season when you are out putting up your lights? This holiday season let Frosty's do the work for you. Just think - no up and down slippery ladders, no braving the cold weather, no blown fuses, no injuries.
We offer Free design consultation, professional installation, maintenance & removal of your holiday lighting and decoration. You and your family will be able to sit back, relax and enjoy the holiday lights and decorations on your home.
Free Design Consultation
- We will meet with you to discuss the lighting & decoration placement for your home free of charge. We will discuss and expand on your ideas as well as provide suggestions. A sketch of your home with the lighting and decoration may be provided for your review.
Product
- We use commercial grade lights which are brighter and more durable. We offer C-9, mini & icicle lighting. C-9 & mini lights are available in Warm White, Multi-Color, Red, Green as well as other colors (special order). Icicle lights in Warm White. We have both incandescent (old school) lights and LED for clear warm white/classic white, multi-colored. Greenery - We have elegant, high quality pre-lit garland with pine-cones & pre-lit wreaths from 36"-60". Our Wreaths are installed with tasteful bows. If you have a special request for a product that we don't stock let us know we may be able to special order for you.
Installation
- Our professional installers pride themselves on ensuring lighting and decorations are properly installed; all strands straight, timers set & extension cords secured and hidden from view. Frosty's Holiday Lighting carries full liability insurance.
Free Maintenance
- We will repair/replace burned out bulbs, light strands & decorations up to Christmas Eve Day (December 24th) - AT NO EXTRA CHARGE. We will be out within 48 hours to address any issues - weather permitting. Permanent Lighting comes with a 1 year warranty.
Removal
- We begin removing all the lighting and decorations the first week in January and are done by February 15th - No additional charge for removal of Frosty owned materials.
Repeat Next Year!!!